Congratulations to Blood Legion for becoming the first guild in the world to complete every Guild Achievement!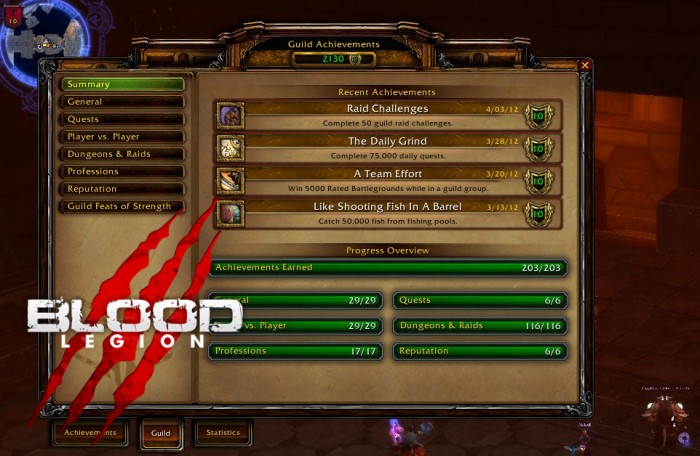 Orchestrating the logistics of this world first was no mean feat. Shortly before daily quests reset at 4 AM CDT, we zoned in to Blackwing Descent to pull the Omnotron Defence System boss. As this fight has no enrage mechanic, we were able to keep the boss at 10 % health until that magic moment when dailies rolled over, whereupon we quickly downed him and scored our last guild achievement,
Raid Challenges
, at 04:01 AM. This was but the crowning moment of a long and ambitious journey that we'd embarked upon since Cataclysm release.
Initially, we had not planned to push for world first Guild Achievements due to our inability to recruit a High Warlord hunter for the
Guild High Warlords
achievement. Early in March, however, we were able to find the very elusive HWL hunter. With this obstacle behind us, we were able to take a step back and seriously consider just what it might take to become the first guild in the world to complete all achievements. Since the
Raid Challenges
achievement required 50 lockout cycles, this feat would not become possible for another four lockouts. That gave us approximately three and a half weeks to grind out the few achievements that we lacked and poise ourselves to take the world first. As there was not much else to aspire to during farm, we became very intent on claiming this prize for ourselves.
Although we only had four achievements to complete before the big day, actually doing so proved to be a logistical nightmare. In a span of less than 28 days, we managed to hammer out over 2300 RBG wins (including a fair number of Arathi Basin 5-cap wins), caught more than 13400 fish from pools across Azeroth, and completed over 8100 daily quests. The road was certainly long and, at times, arduous, but it is a testament to the sheer dedication of our members that we were able to complete these achievements nearly a week ahead of schedule!
Looking forward, Blood Legion's army of alts is showing its full force as we prepare ourselves to the utmost for whatever content Blizzard can throw at us. We're up to 53
Life-Binder's Handmaiden
farmed thus far, and still going strong with seven more incoming each raid cycle.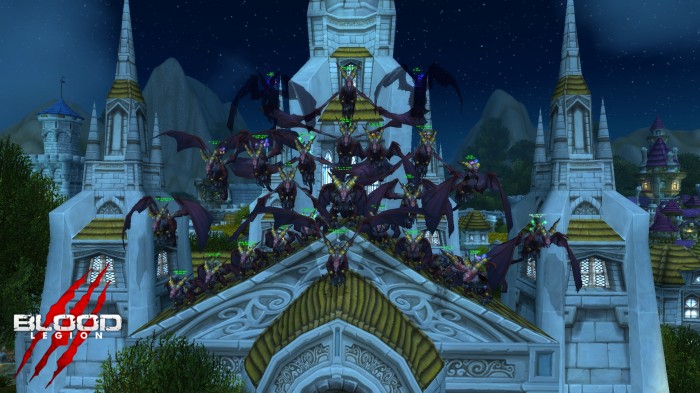 As always, we eagerly await what secrets will be revealed to the boldest of adventurers when the
Mists of Pandaria
part at last...
Click here to see achievement history in the making!